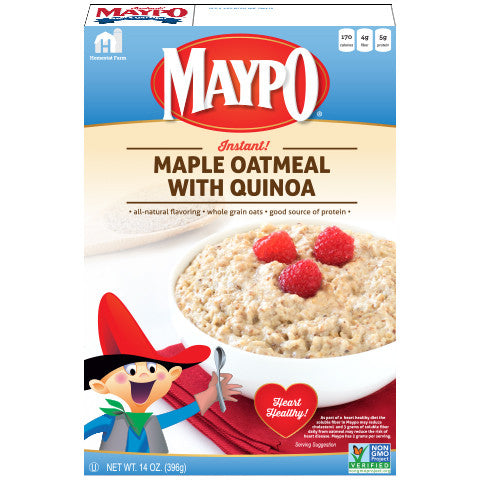 Maypo Instant Maple Oatmeal with Quinoa
The new Maypo Instant Maple Oatmeal with Quinoa is Non-GMO Project verified and combines maple-flavored, whole grain oatmeal with protein-rich, golden quinoa flakes. Quinoa, commonly mistaken as a cereal grass, is an ancient grain as well as a member of the same food family that contains spinach and Swiss chard. In addition to being a complete protein source, quinoa is a valuable source of certain healthy fats and is also rich in antioxidants.
Here are a few fun facts about quinoa:
Complete protein containing all 9 essential amino acids
Almost twice as much fiber as most other grains
Considered an ancient grain
Contains Lysine for tissue growth & repair
Rich in Magnesium to relax vessels & reduce migraines
High in Riboflavin (B2) improving energy
High in Manganese protecting red blood cells

Non-GMO Verified
Just like the Original Maypo Maple Oatmeal, it is still low in sugar with all natural flavoring. Maypo Instant Maple Oatmeal with Quinoa is delicious and good for you too!
---